Catinfog is simply an

easy, flexible and visual POS
We are going to show you all the advantages and features that you will have with Catinfog
More than 3,000 stores already use Catinfog
In the first half of 2019 we have already exceeded 6,000 registered users.
Thank you!
It works 100% in the cloud
That your POS works in the cloud will be all advantages for you and your store. Not only is it more innovative, but you will streamline relationships with your customers.
In short: it will make your day to day easier.

What are the advantages that your POS is in the cloud?
Our POS is used in a web browser
To start using your POS you don't have to install anything. Unlike other tpv, Catinfog does not install on your computer. You enter the web address we send you by mail, and you can start registering products and customers.
You start it in 2 minutes
The configuration of Catinfog is so simple that anyone can do it without knowing the program. 2 minutes is more time than you need to be ready and start selling.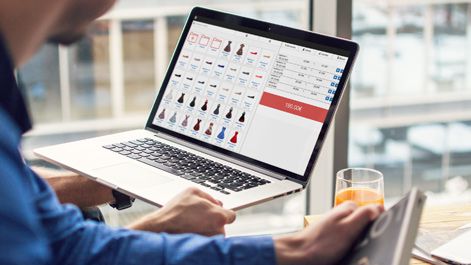 Sell anywhere
Being in the cloud, you can use Catinfog to sell anywhere. Take for example that you have a boutique but from time to time you go to trade fairs in the sector. Or that you have a stall in a medieval market and every week you change town. It would be perfect to be able to open your laptop wherever you are and continue selling, right?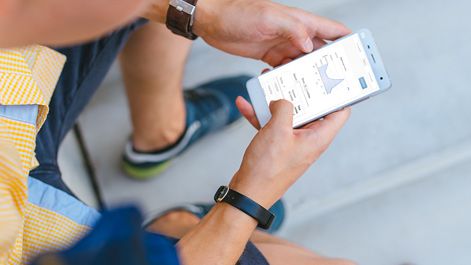 Control what happens from anywhere
This is the characteristic that "Bosses" like best. Imagine taking out your cell phone at any time and being able to control what employee is in each cash register and how much money is in the box. Or check a customer's history or quarterly returns. It's like taking your store with you anywhere.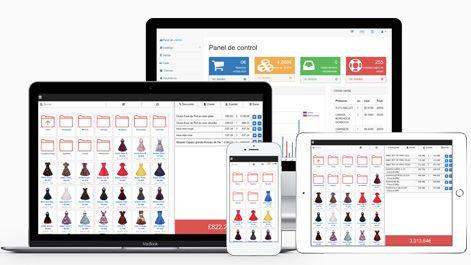 Compatible with computer, tablet and mobile
Do you have a Windows, Mac or Linux computer? An Android tablet or Ios? It doesn't matter, because Catinfog can be operated from any device without any compatibility problem. Cloud stuff.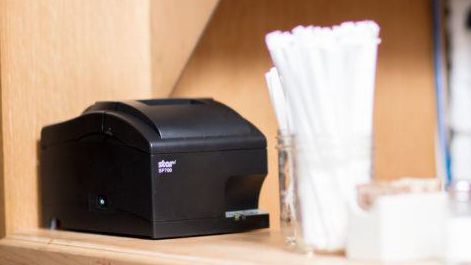 Compatible with any printer
We still don't know a ticket or invoice printer that fails with Catinfog. Absolutely any thermal or ink printer is compatible with our POS.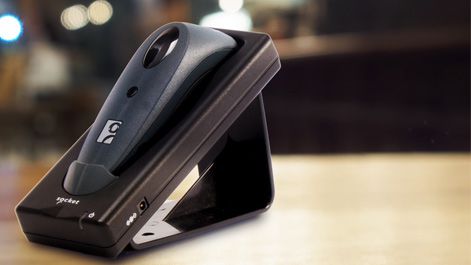 Compatible with any barcode scanner
We have tested Catinfog with more than 100 barcode scanner models and there are still none that failed us. It doesn't matter if it's wired or wireless, because Catinfog is compatible with any barcode scanner.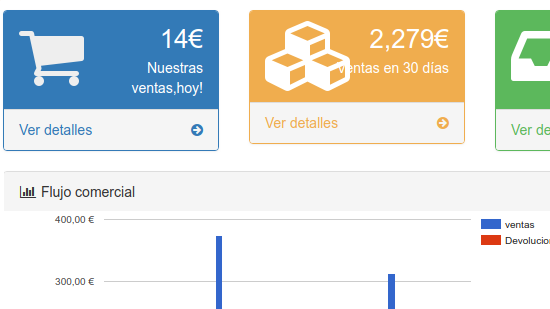 End of day report
Analyze sales day by day in a simple report. At a glance you can see how your business is going thanks to the graphs and tables that show it in a summarized and easily understandable way. The objective: to know how the day went without needing to invest more than 1 minute.
Viene con You also get an online store effortlessly
The POS comes with an online store that does not require knowledge or time to maintain it. It is an unattended online store because it is there but it does not take time.
The entire catalog of products of your Tpv with their prices, stock and categories, are the same in the online store. Sales and returns are processed from the same POS.
Definitely:: You will have an online store effortlessly and synchronized with your POS.

Other characteristics of the POS

Cash control
It takes full control of what happens in the cash registers. From the moment a seller logs in, sales, returns, payment methods, discounts, cash receipts and outflows, etc. are recorded, and at the time of closing, print a cash closing ticket.

Sizes and colors
Create product variations such as sizes and colors (or whatever you need) with your own stock and your own barcode. Then you can create as many groups of options as you need without limit. Optionally you can put a different price on each variation.

Customers
Register customers and associate them with sales to generate legal invoices. Have a history of purchases of each customer and generate reports.

Barcodes
Indicate the barcode by product or product variant and generate and print barcode labels easily.
Search for products by their barcode to sell at higher speed.
Statistics
Obtain statistics on general sales, from a seller, or from specific products or customers. Check which products are the most returned and compare sellers or boxes. Statistics of any action in a simple and visual way.

Tickets and invoices
Print simplified invoices (tickets) and DinA4 invoices without complicating. Reprint as many times as you want and generate gift tickets by hiding the price. Print return or cash closing tickets. Catinfog works with any printer.

Discounts
Add fixed discounts, by percentage or discounts for the return ticket. Inform your customer on the discount ticket he has made.

Offers
Put products on offer individually or in bulk by applying them to complete product categories. Inform on the tickets of the previous price and the discounted price. Perfect so that during sales you can set the store in 5 minutes.
Payments
Create unlimited payment methods. With catinfog you can create all the payment methods you need. Credit or debit card, cash, etc …
Make a cash accounting for each payment method and study the statistics of each method to know which one your customers use most.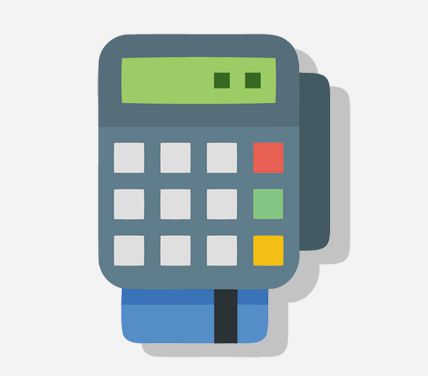 Returns
Cash
Make total or partial returns in metallic money and print a receipt.
Credit return
Make returns for a ticket for the value of the purchase. Redeem the ticket partially or totally.
Changes
Returns a purchase for substitute products instead of money or credit.
There is a human team behind all this
Soporte 7/7
Get support 12 hours a day 6 days a week by phone, support ticket, email and even chat. It also has a section of our website with all the manual and learning videos.
Also receive by email classes on how to position and promote your online store or grow your store with advice from other successful shopkeepers.
Weekly updates and roadmap
Catinfog has a road map full of new ideas that we want to be implemented week after week. Receive the new updates as we develop them. We take care.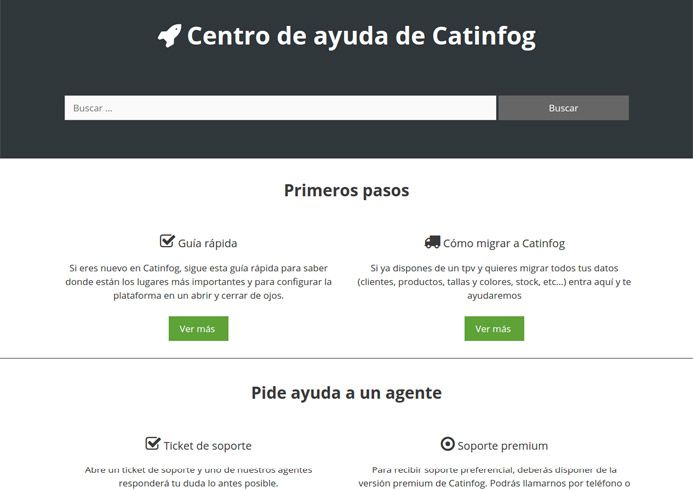 Compatible with any sector
We have designed Catinfog with the necessary tools to be compatible with all possible business models.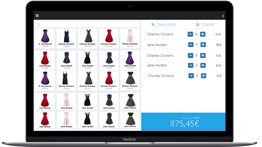 Fashion stores
Sell products with sizes and colors. Perfect for clothing stores of all sizes.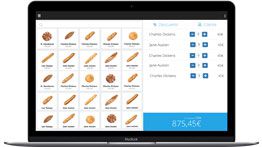 Bakeries
Bread and cake shops must have strict control at the store and at the counter.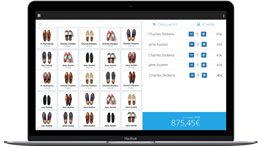 Shoe stores
Catinfog allows shoe stores to sell to customers while trying on shoes.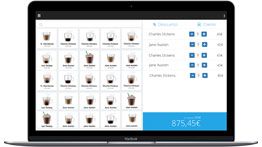 Coffee shops
Serving hundreds of coffees every morning is an art that requires fluid software.
Pizza shops
To sell pizzas at the bar, online or by phone you need a powerful and fast POS.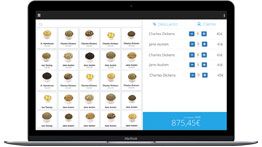 Food stores
We have thought about the shops of nuts, fresh foods and herbalists.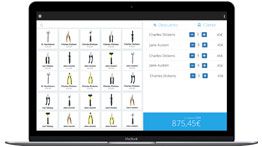 Hardware stores
Selling food products is a type of store that needs a really simple and useful program.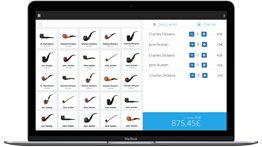 Tobacco shop
The orderly tobacconists earn in customer service and in the management time used.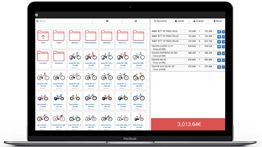 Bikes
The bicycle craftsman must spend his time on bicycles, not management. Simplify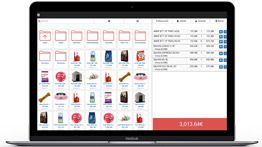 Pet Shop
Animals and their needs are something too delicate to not depend on a modern and simple POS.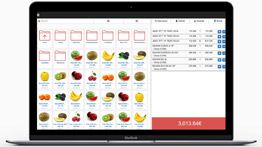 Fruit shops
Selling fruits and vegetables requires constant and real-time control of fresh and non-fresh merchandise.