Trusted by more than 3,000 retail outlets





Enjoy selling fashion and accessories with fluid, tactile
and
super easy-to-use software
Run your boutique easily and from the cloud with our specialised clothing shop software.
Don't just sell from the counter. Move around and serve your customers throughout the shop.
Open your shop window to the world and also sell online with an Online Shop synchronised with the Point of Sale.
Exploit to the maximum the touch screen of your mobile or tablet with our Tpv, and a modern image.
The pleasure of selling fashion
Catinfog is an apparel shop software specially made for you to manage all aspects of selling fashion products. Its clean and modern interface is so intuitive that your employees won't need any training to start selling from day one. With Catinfog you will be able to sell at full speed and serve a large number of customers every day.
You will be able to print tickets or invoices, keep the inventory of the clothing shop tightly controlled, and many other tasks you need to be able to move forward with order and efficiency in your clothing shop.
You will be able to manage the inventory of your clothing shop in a simple and intuitive way.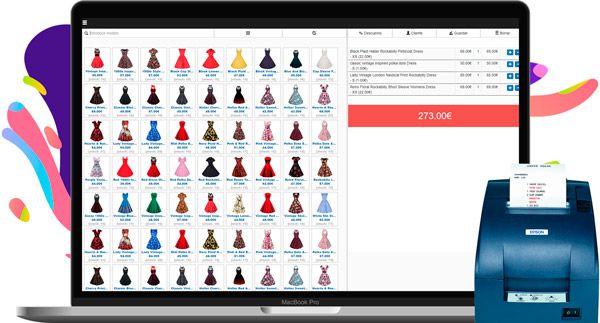 Are you in a hurry and need the POS set up right now?
If you are in a hurry to open your shop and start today with everything ready to go, we offer you a totally free Express Plan. All you have to do is sign up and give us a call. So sign up now!
Let's connect via videoconference and get the software live.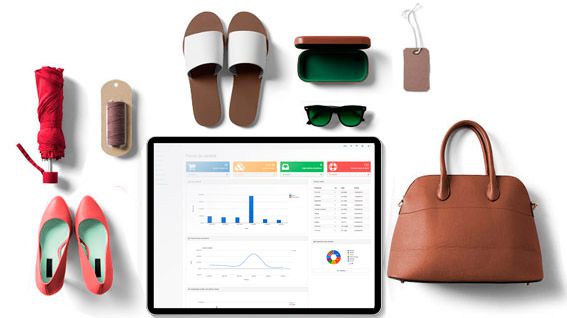 Intuitive size and colour management
Catinfog is designed for shops that sell garments with variants such as sizes and colours. That's why we've created a quick and easy way to create product variants and a simple way to select them during the sale. Our size and colour management software is compatible with the use of barcode scanners, making the sale even faster. If you want to sell a service or product that you don't have in your catalogue, you can create it on the spot and add it to your ticket or invoice.
Give your customers a fast and efficient service from your Point of Sale System
Offer your customers the products that are most in demand or that best match their purchase history. Learn how to manage shop activity with intelligent real-time reporting. Our cloud-based management software will give your business intelligence that will be noticed by your customers.

Catinfog makes Clothing Stores more productive
Catinfog's minimalist and lightweight interface will make your employees much more efficient when selling or counting and registering the warehouse in the system. The simplicity of the sales and management tools is the key to the success of our POS, and will prevent your employees from wasting time learning how to handle programs with manuals of tools that nobody ever uses. On the contrary, Catinfog is simple and gives a modern look to your shop, increasing your productivity.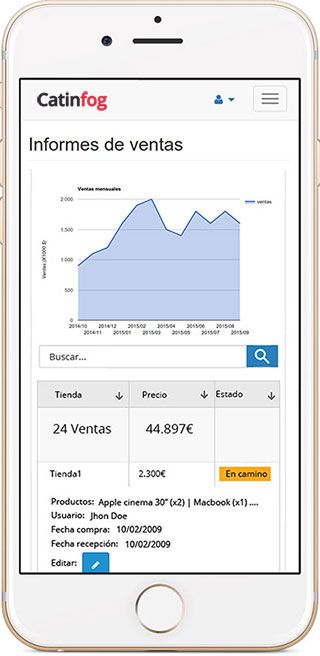 Sell and have control over your shop anywhere
Catinfog works on a web browser, tablet, mobile or PC. So you can sell clothes and have control of your shop from anywhere in the world. Monitor employee activity, stock on hand, cash registers, size and colour inventory, and any quantifiable aspect of a clothing shop.
Receive a daily summary report of sales by salesperson or cash register, returns and customers. See what's going on in your shop in real time and get alerts on low stock items.
Catinfog also allows you to move around the boutique accompanying your customers and selling at the same time and sending to the printer the order to print tickets or invoices without having to go to the counter. This way you won't be limited to waiting behind the counter and your customers will see you closer to them.
Imagine how simple it is to receive on your mobile phone a daily summary of all the activity in your shop, creating a ranking of the best sellers, best selling products or a comparison with the same day of the previous week, month and year.
Open your shop to the world and also sell online
With Catinfog, selling clothes online without any extra effort is a reality. And all thanks to the fact that the tpv automatically brings with it an online shop that uses the same catalogue and stock. This will allow you to display and sell online without having to learn anything about online shops and without having to maintain 2 product catalogues. You will simply outperform your competition and provide a great service to your customers, who will be able to visit and buy or reserve products from their homes.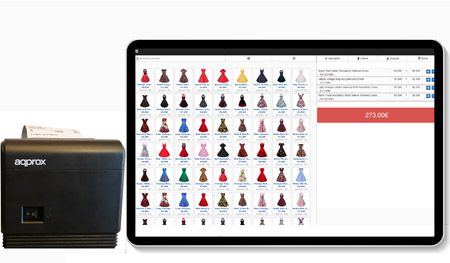 Gift vouchers, cashback on credit and gift cards
With catinfog you will be able to sell clothes even if they are for gifts, as you will be able to print tickets hiding the price.
You will also be able to process returns easily without the need to return the money, but by means of a ticket that the customer can redeem in the future.
Print gift cards so that your customers can exchange them for clothes whenever they wish.
With Catinfog you will have all the tools you need to provide the best service to your customers without having to learn how to use a complex and outdated platform.
[Total:3 Promedio:4.6/5]*
*To vote you need to log in

★ ★ ★ ★ ★
"I choose Catinfog for its simplicity and efficiency. It has saved me a lot of time."
Luna Quintana – El mundo de Luna

★ ★ ★ ★ ★
"Being able to have an online shop connected to the POS is perfect for my boutique."
Carmen Herrero – Corner Shop

★ ★ ★ ★ ★
"Selling through the shop by mobile phone has brought us much closer to the customer."
Catalina Chorobik – Era Vintage