Running a physical business is not as easy as it seems. Restaurants, clothing or food stores struggle daily to keep track of cash flow, employees, customers, the warehouse, and cash in and out. It's a lot of data that has to be sorted out to know what happened in the past, what is happening today, and how to act in the future.
Preventing your employees from putting their hands in the money box, replenishing the stock with head or presenting the invoices to the manager are tasks that if employers must do every day.
To make these operations manageable and scalable, a POS is necessary. If you don't know what it is, Wikipedia makes it clear in one sentence:
"A point of sale (POS) terminal is a device that, in a commercial establishment, allows the management of tasks related to the sale, such as charging by credit or debit card, creating and printing the sales ticket, managing the inventory or generating reports that help in the management of the business, among others."
That is why the choice of a point of sale terminal is perhaps the most important technical decision in a store. The problem is that it is very difficult to make a decision and choose the POS that is best for the business. And if we want to save some money and look for a free POS, logically the difficulty of finding the most suitable software increases.
Although there are several free tpvs on the market, each one has certain advantages and disadvantages. As it is natural, to the being free they do not adapt to all the needs that every shop has. For example, some managers are only looking for a simple warehouse program. Others focus more on sales and want ticketing and cashier control software. There are also those who need to store customer files in order to send them advertising or to have a loyalty point program. Finally, there are the intrepid ones who have decided to sell on the Internet and want a TV that synchronizes with their online store.
The first question you should ask yourself before selecting your point of sale is whether you will want to install the point of sale on your computer, or whether you will be cutting edge and your point of sale will work in the cloud. Does it make sense in the middle of 2020 to install a program on a computer?
There is also the decision to choose a point of sale with the right tools. Some are simple and some have dozens and dozens of tools. You know, those kind of programs that to know how to manage 10% of their possibilities you need an intensive course of one week but that will give us an over control of the situation. And on the opposite side, the point of sale minimalist: easy to use and light to say the least that promote the minimalist management of shops. And although personally I am in favour of the latter (the minimalists), in large stores it is possible that what I call "macro-pos" are necessary.
It is this kind of factors that determine if you have found the point of sale you needed or not.
In this article I will show you 25 free point of sale programs that will help you manage your business without spending a single euro. The 25 that I am going to list below are different from each other, and practically only share the fact of being free differing in the rest of features: design, functionality, compatibility, ease of use, etc…
Each of the point of sale you will see below has strengths and weaknesses. And before you start studying them one by one, you should know that there is no such thing as a perfect point of sale, nor is there one that rigorously adapts to your way of working. Acquiring a point of sale is very similar to working with someone else with whom you only share certain things. I mean, you have to choose the point of sale that comes closest to your idea of running a store, but assume that you will also have to sacrifice and adapt to the way the program works. If you are looking for something that is exactly as you imagined it, you should still consider stopping looking for a free point of sale and investing in the development of a custom software.
1- Catinfog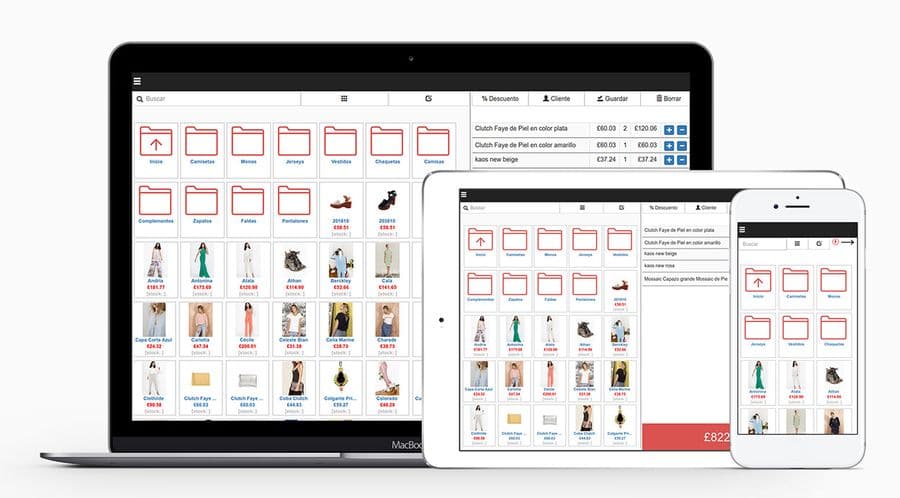 The first point of sale we're going to look at is Catinfog. Catinfog is a point of sale that we could define as "plug and play". You don't need any requirements to start using it. It doesn't matter what your experience is with software because it's extremely easy to use. Even a child could keep a store tidy with this point of sale
The design is the one that is being imposed in the United States in the new generation of point of sale.
It works 100% in the cloud, and this means that it is handled as if it were a web page from Chrome, Safari, Mozilla Firefox or any other browser. It doesn't matter if you're using a mobile phone, a computer or a tablet because it fits perfectly to any kind of screen even if it's a touch screen. It does not matter either the operating system (Windows, Mac, android, linux, etc…). It is compatible with any printer and any barcode scanner.
For merchants who want to make the leap to selling on the Internet, Catinfog has the possibility of maintaining an unattended online store. Come on, the point of sale products appear in the online store, and the stock, prices, etc.. are the same.
To try it out you just have to register on their website.
Ease of use: Very high
Scalability: Being in the cloud and being able to create cash registers with a click, it can be implemented in hundreds of stores in minutes.
Compatibility: Any operating system, any screen, any printer or scanner.
Works in the cloud: Yes.
Online store included: Yes.
Link: https://catinfog.com/en/
2- Unicenta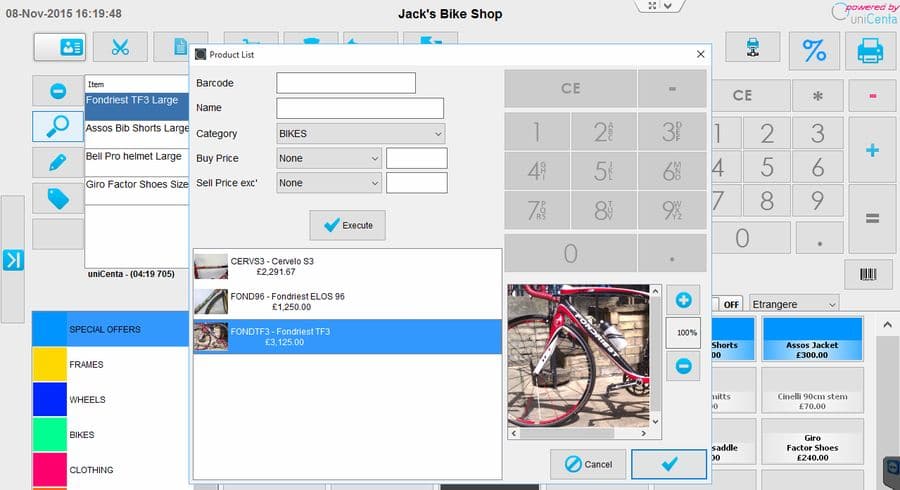 Unicenta is an old school point of sale opensource. It's actually an openpos fork (we'll see it in this list) with some modifications. Its community, although it has decreased over time, is still active. Their web is in English, but they do have a package with the Spanish and other languages.
Their big advantages are their free code (and therefore free) and that they work in the cloud. It is also a software centered in the tpv, and therefore it is not the typical program in which the point of sale is only a part of the system.
Among its disadvantages we can see that the interface is not of the current point of sale generation and that it does not have an online store.
To handle it you must have an apache server and Mysql.
Ease of use: It takes some time to understand the operation but is affordable.
Scalability:
High.
Compatibility:
Any operating system, only computer screens, any printer or scanner.
Works in the cloud:
Yes.
Online store included:
No.
Link:
https://unicenta.com/
3- Ofbiz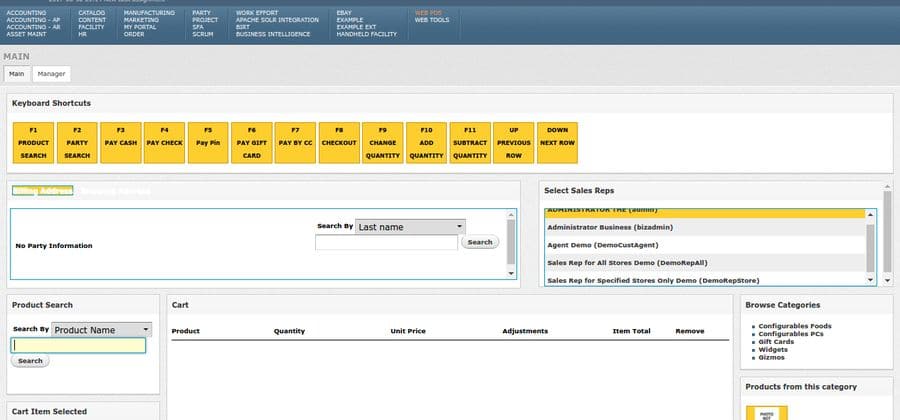 Ofbiz is a point of sale module that is installed inside the erp they offer. It's free and Apache licensed, which means that it's free and allows you to modify the code as you like. The code is java. The community is not very abundant, but the project is still alive this 2020.
The problem I see is that java is a language in decline from the latest generation libraries. Its design seems to be anchored in 2004.
In spite of its drawbacks, I would like to emphasize that it is one of the few projects that have so much time and continue getting updates. They have even enabled a module to create an online store.
Ease of use: Medium-low. It is necessary to consider that it is not only a tpv, but a complete system of invoicing, accounting and management of the company. It requires some time of training.
Scalability: High since it works in the cloud
Compatibility: Computer screens and any type of printer or scanner.
Works in the cloud: Yes.
Online store included: Yes.
Link: http://ofbiz.apache.org/
4- Chomis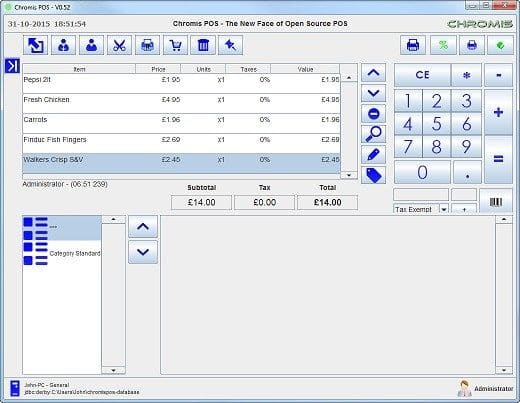 Chromis is an open source point of sale with a mainly Anglo-Saxon community. It is focused on businesses that serve food. In fact, the star module is a kind of blackboard with the commands. It only supports 1024×768 screens.
Its great asset is its simplicity. It doesn't work in the cloud, but it can be installed in Windows, mac and linux. It's so light that it can run perfectly on the well-known Raspberry Pi 2.
As a problem we could mention that the simplicity is taken too far in the interface, which seems to be straight out of the 90s. Although at least it doesn't harass with tools everywhere.
Ease of use: Medium-High
Scalability: Low.
Compatibility: Windows, Linux, Mac.
Works in the cloud: No.
Online store included: No.
Link: http://chromis.co.uk/
5- Wallace Pos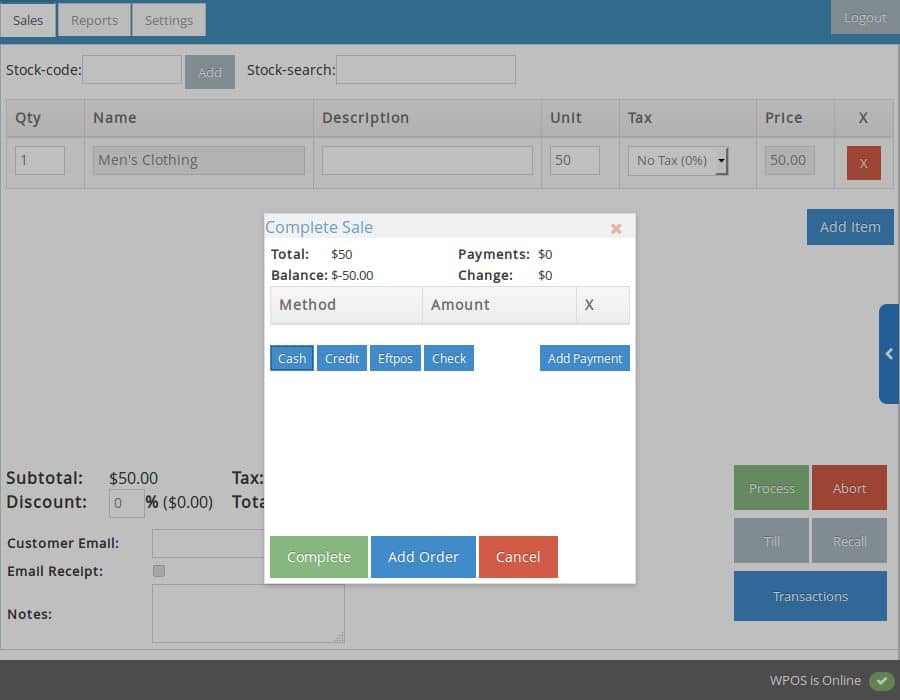 Wallace is an open source point of sale that with 4 developers have achieved something quite interesting in a modern cloud code: php. Their interface is halfway between the nineties and 2010. But it is appreciated that they have used a current css library. The only language is English, although it can be translated if you touch the code.
It's a pity that such an interesting project comes to nothing because of not creating a community, since their website has no forum, and their github page has no movement. Even so, small shops with not too many requirements can risk using it in production.
Ease of use: Medium-High
Scalability: High.
Compatibility: Compatible with any printer and scanner Can only be used on computer screens.
Works in the cloud: Yes.
Online store included: No.
Link: https://wallacepos.com
6- Samba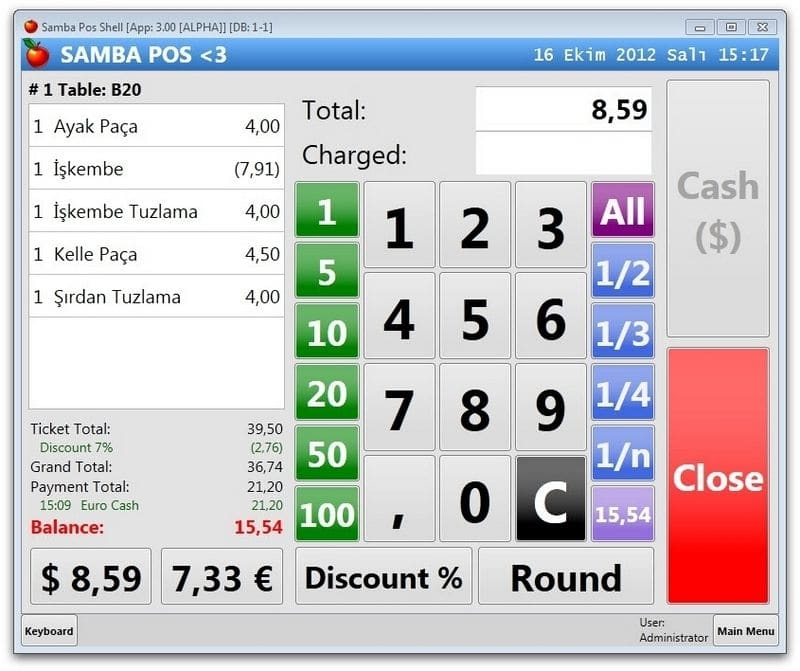 Samba is a point of sale developed for Windows and according to its author is intended to be used in the hospitality industry. It is quite simple, which makes it a software with few errors. It hasn't been updated for 4 years, but the question section of its website is still receiving messages today.
The design is the usual one for the moment it was programmed. It has a Spanish version and the big advantage is that it can run on any computer from 15 years ago.
Ease of use: Medium
Scalability: Low
Compatibility: Medium
It works in the cloud: No.
Online store included: No.
Link: https://sambapos.org/en
7- Floreant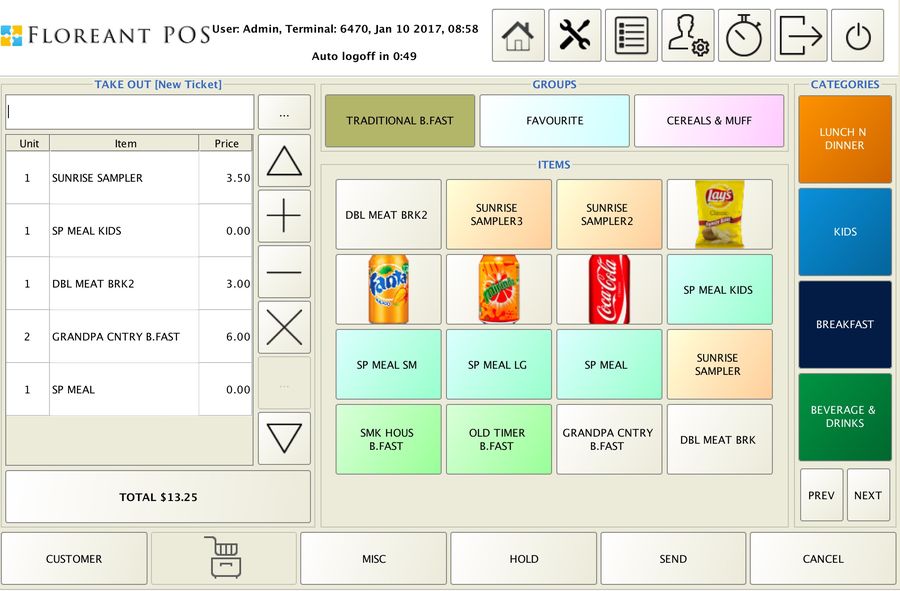 Floreant is a free point of sale in English specializing in restaurants, although any type of store can use it. With code written in java, it is compatible with most operating systems. It can only be used on large screens. It can be installed on cloud servers.
Its great advantages are that it is specialized in one sector. For example, it is perfect for managing all the printers in a restaurant (kitchen, bar, etc). Its big disadvantage is its slow development (it does not release updates since 2015) and its interface reminds of windows xp.
Ease of use: Medium
Scalability: Medium
Compatibility: High.
Works in the cloud: Yes.
Online store included: No.
Link: http://floreant.org
8- Keyhut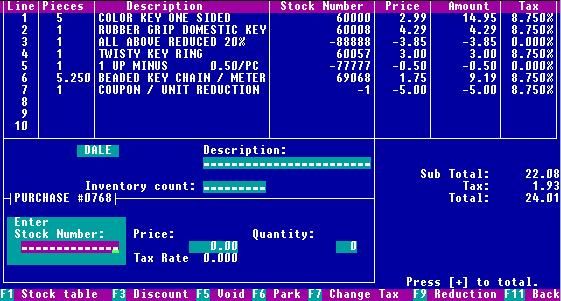 Keyhut is a point of sale that I love. It's what it is and he doesn't want to hide it. It's a vintage point of sale that was used in the eighties. In fact, his website has the same aesthetic. It is so light that any computer can move it. The problem is that it's only compatible with operating system two. As a computer scientist, I find it a gem, and it has all my sympathy. As an entrepreneur, I'm not sure it's the best choice. For example, it has been more than 2 decades since printers have been manufactured that are compatible with this operating system.
The biggest advantage it has, in my opinion, is that it is very tried and tested and can have few errors. For this point of sale I am going to include a new parameter: the glamour.
Ease of use: Low.
Scalability: Low.
Compatibility: Low.
Works in the cloud: No
Online shop included: No.
Link: http://keyhut.com/pos.htm
9- Ospos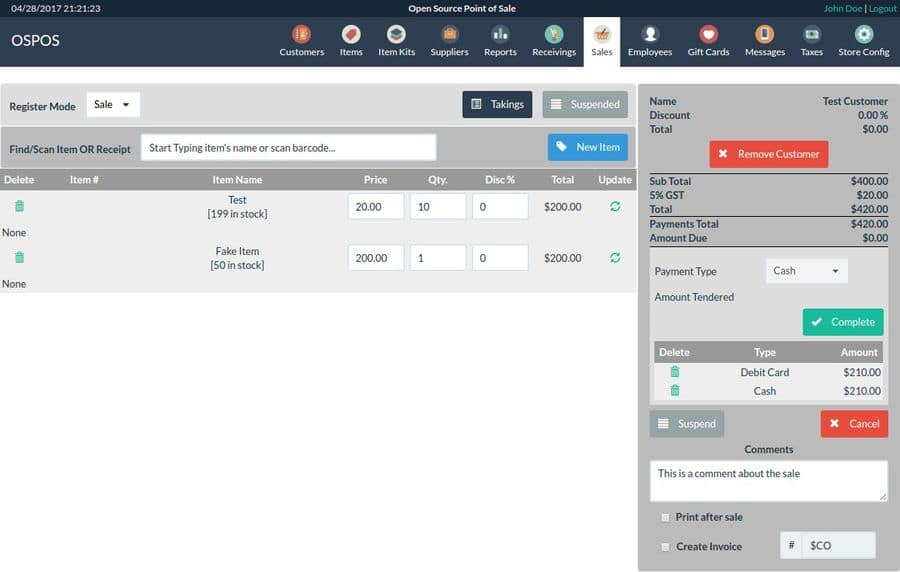 Ospos is a point of sale for those who have a history and thanks to the work of its developers several forks have been created based on its code. Ospos is an opensource software that is only tpv. Perhaps the best of the open source ones. Its control panel has a very careful aesthetic, although it has many more tools than most shops need and this can make you spend more time than necessary to learn how to use it. The point of sale interface is well cared for, but it stays in the previous generation to the new ones. In the visual section, this is its weakest point.
The strongest point is that its developer community amounts to 48 contributors and that it has regular updates. To install this point of sale you need an apache server and Mysql.
Ease of use: Medium-High.
Scalability: High.
Compatibility: High.
Works in the cloud: Yes
Online shop included: No.
Link: https://github.com/jekkos/opensourceposopensourcepos
10- Pangea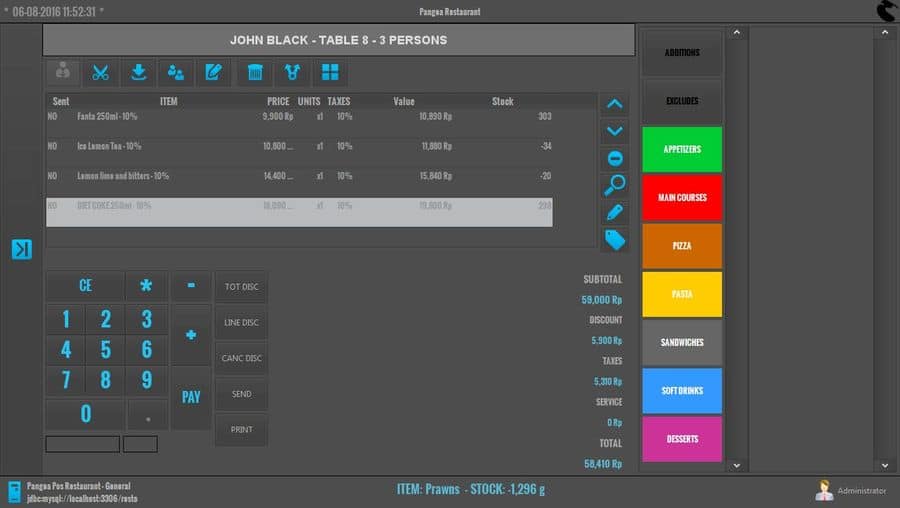 Pangeapos is another attempt by the generous open source world to make something useful and modern for retail. The biggest problem I see in testing it is that the developer has done it by looking at old point of sale interfaces.
The rest is quite usable. Especially if the retailer using it is a hospitality industry.
It only works in Windows operating system.
Low-Medium.
Scalability: Low.
Compatibility: Only compatible with Windows.
Works in the cloud: No.
Online store included: No.
Link: http://pangeaopenpos.com/